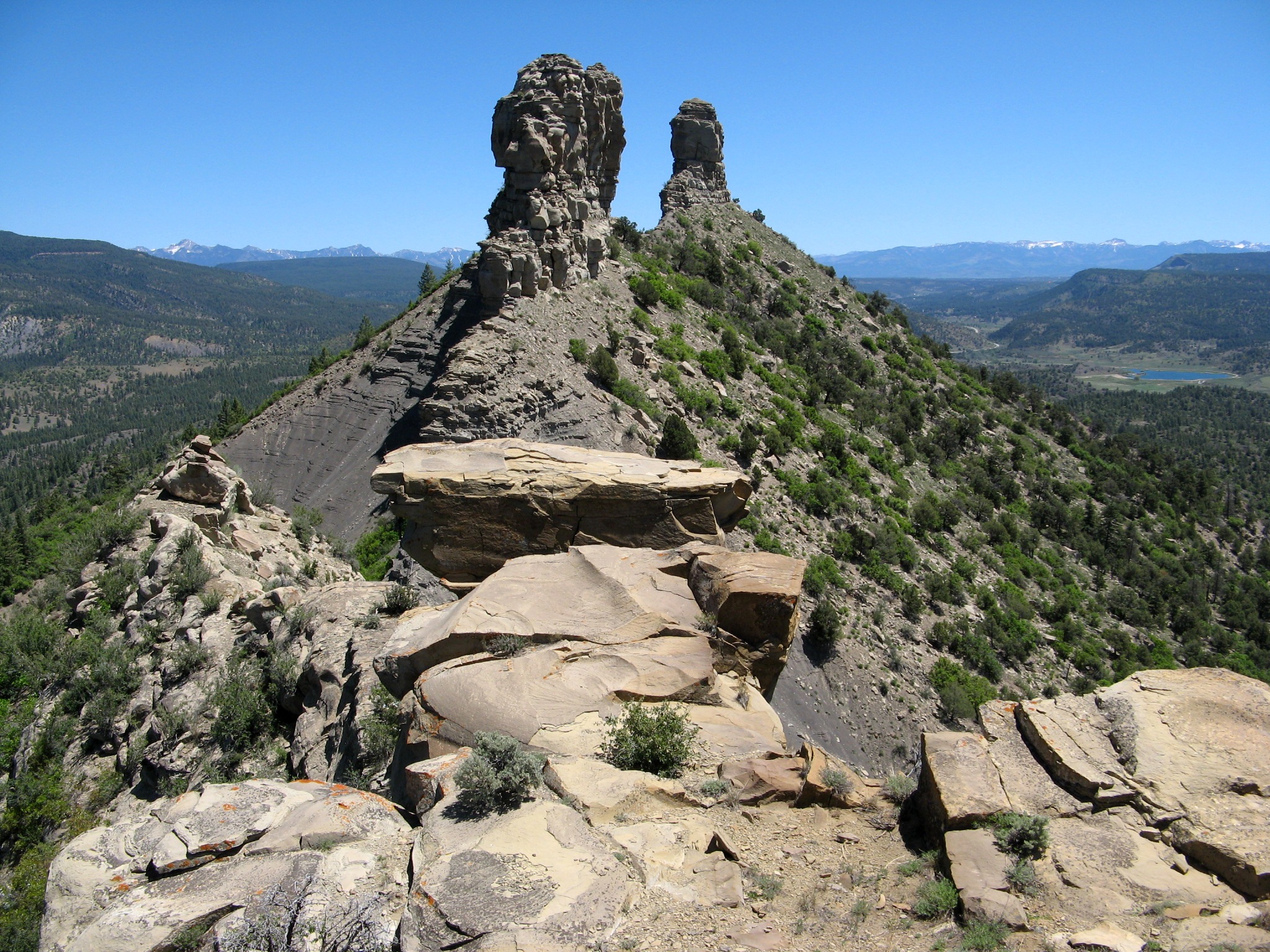 CHIMNEY ROCK
NATIONAL
MONUMENT
Step back in time as you walk in the footsteps of the ancestral Puebloan people at Chimney Rock National Monument (CRNM). The monument is a 4,726-acre archaeological site and preserves architecture and artifacts used by the ancestral Puebloan people approximately 1,000 years ago, from about 900 A.D. to 1150 A.D. The ancestral Puebloans were an ancient culture that inhabited and traveled across areas of New Mexico, Arizona, Utah and Colorado, and Chimney Rock is the northeastern gateway to their past world.
Ancestral Puebloan farmers lived in villages and on dispersed homesteads. An impressive testament to this life and community is the Great House Pueblo situated at an elevation of 7,600 feet, just below the Chimney Rock pinnacles. The Great House Pueblo is only one of 91 structures found at Chimney Rock thus far by researchers. Although Chimney Rock is an important link to an ancient culture, several Native American groups, notably the Puebloan tribes, still have a special spiritual and traditional affinity for this place.
The 2022 season at CRNM opens on May 15. The monument is located 17 miles west of Pagosa Springs and three miles south on Colo. 151. The U.S. Forest Service manages the site; there is a per-vehicle daily-use fee of $20. All Park Passes are honored.
Chimney Rock Interpretive Association (CRIA) is a nonprofit volunteer organization that offers specialized interpretive programs at CRNM. Fees for these programs vary but most are in the $16-20 range for adults.
A morning Great House guided tour is offered each day at 10 a.m. — $10/adults, $5/children 5-12, children under 5 are free. Please check the website for details and up-to-date schedules for all interpretive programs: www.chimneyrockco.org .
Full Moon program
During this program, guests will learn about ancestral Puebloan ties to astronomy, Puebloan culture and more while watching the full moon rise from atop Chimney Rock Mesa. Cost is $20. A package combining the Full Moon program with a guided tour of the Mesa Village Trail is also available for $25.
New for 2022: Moonlight Melody
Similar to the Full Moon program, but accessible to everyone in the amphitheater. Live Native American flute music and a short walk on the new Nature Trail enhance the evening's experience.
Night Sky: Stars and Galaxies
Timed for when the moon is absent from the sky so visitors can enjoy a dark environment and see fainter objects that the moon's light would normally obscure. If restrictions allow, telescopes will provide guests with a closer look at the wonders of the night sky.
Summer Solstice and Fall Equinox Sunrise Program
Join us for the Summer Solstice or Fall Equinox to experience the sunrise from the Chacoan Great House and learn why these events were important to the ancient ones. A tour of the archaeological sites is included in this program.
Life at Chimney Rock Festival
This free daytime festival, to be held May 28 (Saturday of Memorial Weekend), includes interactive demonstrations of crafts and skills of the ancestral Puebloan people in addition to a Native American arts and crafts market. No reservations required, and entry to the Monument will be at no charge that day.
Geology tours
This tour explores local geology and its relationship to the daily lives of the ancestral Puebloans who lived at Chimney Rock.
Birding at Chimney Rock
This program, presented in partnership with the local chapter of the Audubon Society, is a wonderful opportunity to observe and learn about birds native to the Chimney Rock area.
Experienced Audubon birders will lead and assist the group, walking nature trails in the lower area of CRNM (no archaeological sites are included on this tour).
Flora of Chimney Rock
A thousand years ago the people who lived at Chimney Rock depended on the plants around them for food, fuel, tools, housing, clothing, medicine and art. Join us for an introduction to some of the plant species that grow at Chimney Rock and their uses by ancestral Puebloan people.
Morning Great House Guided tours can be purchased at the CRNM Gift Shop when you arrive before 9:30am each day. All interpretive programs (except Life at Chimney Rock) require reservations and can be booked online at www.chimneyrockco.org or by calling (877) 444-6777. Walk-ins are accommodated if space allows.