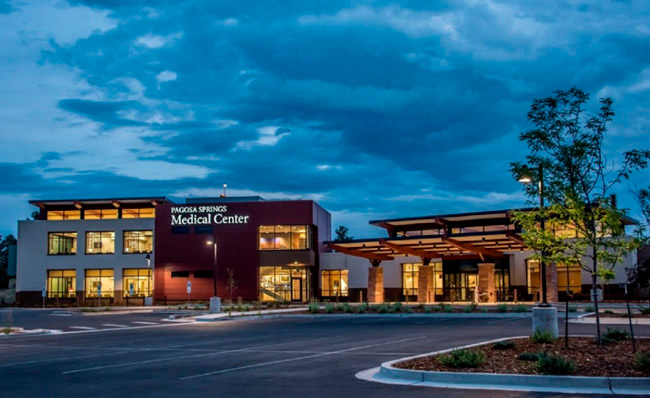 By Angela Wirth
A diagnosis of cancer can be one of the most difficult things to hear, but fortunately, many patients fully recover if their cancer is detected early and treated effectively.
Diagnosis and treatment can be especially challenging in smaller communities in rural areas, which often lack access to basic health care services, let alone specialty care. However, Pagosa Springs isn't your average small town.
Since it opened three years ago, Pagosa Springs Medical Center's Center for Cancer and Blood Disorders has been an invaluable asset for residents of Pagosa Springs and the surrounding area.
Having such a high level of care available so close to home has made a tremendous difference in people's lives. Before the center opened, military veterans in Pagosa Springs who needed cancer treatments regularly traveled to Albuquerque to receive care. Others who needed cancer treatments also had to travel there, or to Durango or Denver, incurring additional travel expenses and experiencing higher levels of stress, inconvenience and interruptions to work and other aspects of daily life.
PSMC and the center offer not only diagnostics to detect cancers early, but also individualized treatments, including chemotherapy. In the center's infusion center, staffed by experienced infusion nurses and support staff, patients can also be treated with hormonal therapy, immunotherapy and specialized infusion therapies for blood and autoimmune disorders.
When a higher level of care is necessary, such as radiation, PSMC's Cancer Center team coordinates care with specialists at other institutions, including nationally recognized cancer centers, to best address patient needs.
PSMC is fortunate to have a dedicated team of highly experienced cancer specialists to guide The Center through its unique challenges. The Cancer Center team includes Dr. Andrew Buck, oncologist and hematologist; Dr. Bill Jordan, oncologist; Dr. Roy Tinguely, general surgeon; Kelly Cesary, advanced oncology certified nurse practitioner; Lauren Muir, physical therapist and certified lymphedema therapist; Christina Reeves, Director of Pharmacy and administrative director for the center; Dr. Jessica Cox, radiologist; an oncology nurse navigator, chemotherapy/biotherapy certified infusion nurses, and a social worker.
The cancer team works together to develop treatment plans that focus not only on using the latest technologies and treatments, but treating every patient individually, with compassionate, personalized care. There is no single way to beat cancer; there are many, and the integrated care team at PSMC's Center for Cancer and Blood Disorders is here to help you every step of the way.