Growing food and community with local energy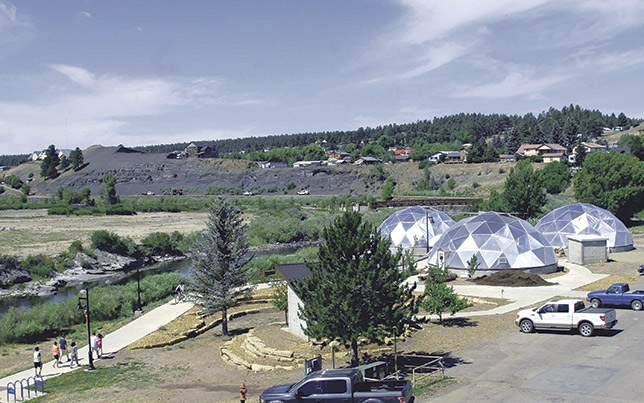 Geothermal Greenhouse Partnership (GGP) manages a botanic educational park on Pagosa Springs' Riverwalk.
Three dome greenhouses are dedicated to three different themes. The greenhouses grow food year-round with geothermal heat, passive solar energy and active solar electricity.
GGP demonstrates sustainability in its food production, water conservation and renewable energy.
As Covid-19 restrictions lift, GGP will again be an active community meeting place and its Education and Community Garden Domes will be open to the public.
Since 2017, the Education Dome has held classes and workshops for all ages. Hundreds of school students visit to learn about a healthy biodiverse environment, growing fresh food and renewable energy. Now all food being grown in the Education Dome is being donated to Pagosa's local food pantries for weekly distribution. This year any excess food will go to the Pagosa Farmers Market. Local gardening groups grow food in GGP's Community Garden Dome for community members.
GGP's Innovation Dome is a soilless integrated aquaponic system, growing both fish and vegetables. The system is bio-secure and highly water conservative.
GGP operates through a professional board of directors, numerous volunteers, five strategic committees and an enthusiastic membership base. GGP treasures its many partnerships and collaborates with the Town of Pagosa Springs, the Audubon Society, Colorado Water Plan, Santa Fe Community College, Archuleta Food Coalition, Southwest Organization for Sustainability and many more organizations.
Visit GGP on the San Juan River Walk in Centennial Park. Visit pagosagreen.org for more information, to contact GGP and to volunteer. GGP is "growing food and community with local energy!" See you on the Riverwalk.